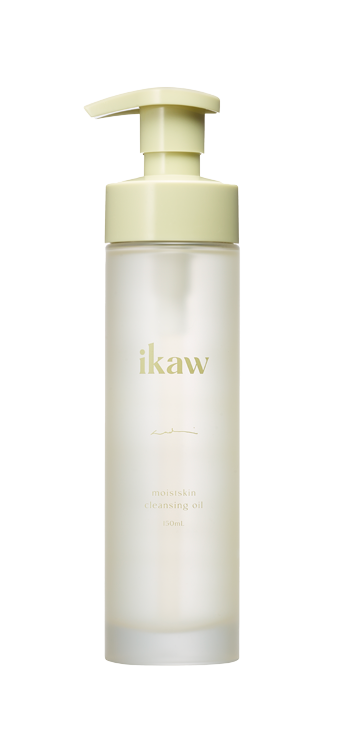 限定パッケージ
ikaw moistskin cleansing oil
『あなたに出会う』をテーマに作られたこれまでにない"潤うクレンジング"が誕生しました。ホホバやコメヌカ、サラソウジュ種子油など保湿としての役割を持つ成分達を贅沢に配合。洗い上がりのなめらかさと柔らかさはまさしく新しい質感。あなたがあなたに出会う驚きの体験を。
$39.04USD 150ml
End of sale
Gift option
Lavishing blend of moisturizing ingredients*.
Leaving the skin smooth and soft in a way you've never experienced before.
For you to discover yourself —
The cleansing oil bestows you an awing experience.
ikaw moistskin cleansing oil is infused with
a lavish amount of potent moisturizing ingredients.
Melting onto your skin from the moment it touches your skin and smoothly cleanses your skin.
A unique ikaw skin experience
— turning the skin soft and hydrated as you wash.
Point

── Leaves your skin soft after cleansing

Many people think washing the face with cleansing oil leaves the skin "feeling too tight." But not all cleansing oils are like that, and it's all about the formulation. Our cleansing oil is made from a lavish blend of moisturizing skincare ingredients found in ikaw oil, featuring Jojoba oil, Shorea robusta seed oil, rice bran oil, and sesame oil. The lightweight oil will lead your fingertips glide gently over the skin, mitigating abrasion and leaving the skin soft after rinsing.

── Keeps the base of the skin immaculate

"Why is cleansing, the process of washing, so important?" — The answer is because impurities can't be washed off thoroughly with mere warm water. Also, there's another essential role that only a cleanser can achieve — It cleans out clogged pores filled with grime and sebum and removes excess oil. Keeping the base of the skin clean is essential to maximize the performance of the nourishing ingredients in the skincare products to follow. Make "washing" an essential part of your skincare. Your skin will glow up by doing so.    

── Texture unique to ikaw oil

A cleansing oil made keeping the same blend, melting texture, and aroma as ikaw oil. The cleansing oil and ikaw oil are both oils, but they work differently — the cleansing oil cleans out the grime from pores, and ikaw oil nourishes the freshly washed skin. Using both oils will regain its innate softness while keeping in what's beneficial for the skin. It's a one-and-only cleansing oil unique to ikaw.

How to use
Cleansing oil that hydrates the skin as you wash 

Use it as a cleanser on your face after a long day, followed by a face wash. 

Even with minimal makeup, you still have 
sunscreen and makeup-base left in your pores.
So we recommend cleansing every day as a treatment for your pores. 
ikaw cleansing oil contains a lavish amount of moisturizing ingredients — 
so no need to worry about skin feeling tight after cleansing.

The rich, tender texture of the oil mitigates abrasion on the skin
Gently removing stubborn liquid foundation and mascara without ever rubbing it off

We recommend 2 pumps per use
But add more pumps if necessary, depending on how much makeup is applied for the day.

Comes in a large bottle of 150ml — Even if you used 3 pumps every night, 
it would last for approx. 3 months, so there is no need to worry about skimping. 

Cleansing oil will lift impurities away from your pores. 

Keeping the base of the skin clean is essential 
to maximize the performance of the nourishing ingredients in the skincare products to follow.

Make "washing" an important part of your skincare
To bring more comfort to your skin

Ingredient


Rice bran oil

This ingredient is naturally found in the skin, protecting it from irritants. Rich in highly penetrative minerals and helps repair skin damage.

Almond oil

Rich in Vitamin E, which has a function of removing free radicals, and oleic acid, which keeps the skin soft and moisturized.

Salicornia herbacea seed oil

This ingredient has excellent moisturizing properties that prevent dryness and keep the skin soft. It also features a comfortable, smooth texture.

Sesame seed oil

Rich in Vitamin E — an antioxidant agent. It deeply penetrates the skin and helps retain hydration, resulting in softer and brighter skin.

Macadamia seed oil

Readily absorbs into the skin and is expected to have anti-inflammatory effects, making it effective for chapped and cracked skin.