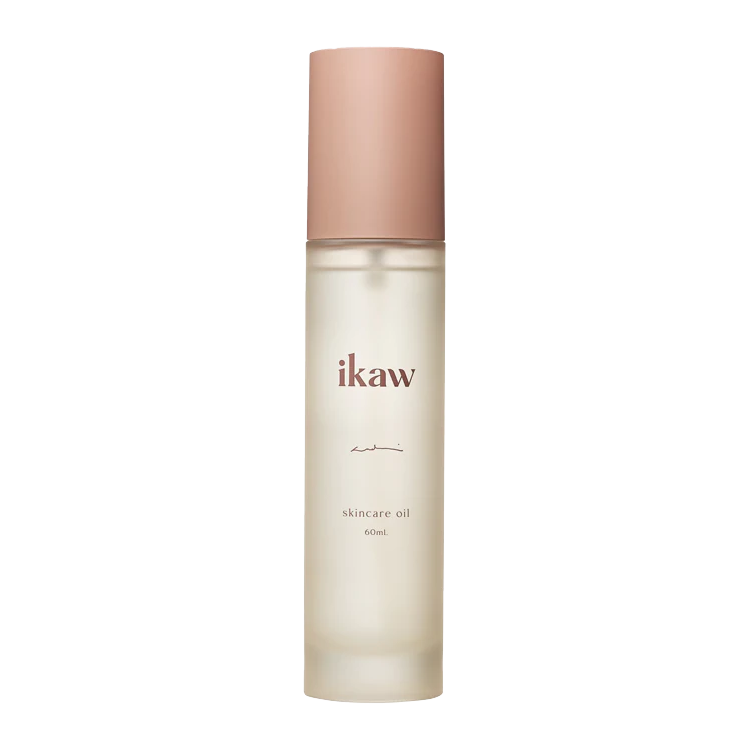 ikaw skincare oil
Skincare oil made from plant-based ingredients that reproduce the innate skin components of a 22-year-old, which is the
age considered to have the most well-balanced skin—Moisturized, soft and supple skin without feeling greasy. Or a
flawless smooth skin. The oil is suitable for those who feel their facial skin is dehydrated, dull, and dry, as well as
those with redness and irritated skin. The oil is also effective for dry lips, neck winkles, and at toning your
décolletage skin, softening your breasts, smoothening your bum and underarms, and lightening the intimate area.
Experience smooth skin that makes you want to touch.
$43.64USD 60ml
Buy now
Gift option
An oil concocted from plant-based ingredients that reproduce
the innate skin components of
the most well-balanced skin of a 22-year-old,
and made possible to experience
smooth skin that makes you want to touch.
ikaw skincare oil is concocted from plant-based
ingredients that reproduce the innate skin components of
the most well-balanced skin of a 22-year-old.
The moment the oil is applied on the skin,
it turns into a soft, almost translucent texture,
making the skin flawless and smooth without feeling tacky.
Experience smooth skin that makes you want to touch.
Point

── Firms and Plumps Skin

One of the key ingredients, prickly pear cactus, readily absorbs into skin's deep layers, brightens and imparts glow to skin while boosting skin's ability to retain moisture. The product contains amino acids, which stimulate collagen secretion making skin bouncier and plumper. It is also packed with vitamin K, which improves blood circulation and helps reduce undereye circle and dullness. Continuous use of the oil will lead to supple smooth skin.

── Improves Skin Barrier Function

One of the ingredients, rice bran oil, uniquely comprises elements essential for ravishing skin, and prevents skin aging from exposure to UV light. Also nourishes aged vascular walls and repairs skin barrier function

── Power of Science

ikaw oil's most significant trait is its light watery texture you will feel right when it is applied on skin. It softly and readily spreads over skin. It can be used comfortably in all seasons and any situations, as it is lightweight and will not leave the skin feeling greasy.

How to use
An oil that always stays by your side




In the morning, apply after cleansing and before your usual skincare routine
Just a small amount on your face will do to get flawless skin.
Boosts the benefits of the lotion, and restores supple texture to skin.
Also works well for lines and wrinkles on neck and décolletage.

It is a natural oil that keeps skin comfortable and dewy without feeling tacky.
Can be applied anytime of the day for dry hands, figure tips, and lips.
The fine textured oil will readily absorb into the deeper layers of skin.
At night, it can also be used as an massage oil.
Skin will be soft and replenished.

Great for hair as well—use before drying hair or when styling.
Safe for babies as it is made of plant based ingredients.
Recommended for diaper rash and irritated skin treatment.
For pregnant women—it can be used as a massage oil for breasts and to help prevent stretch marks.
Breath in and feel the scent's caress.
The oil is created to be by your side in your everyday life.

Please use within 3 months after opening.
If unopened, it can be stored for up to 1 year.

Use it however you like, the way you like.

Ingredient


Echinocactus grusonii oil

Rich in Vitamin E. Provides antioxidant effects that restore glow and firmness to the skin. Its potent moisturizing properties lead to transparent and radiant skin.

Rice bran oil

This ingredient is naturally found in the skin, protecting it from irritants. Rich in highly penetrative minerals and helps repair skin damage.

Salicornia herbacea seed oil

This ingredient has excellent moisturizing properties that prevent dryness and keep the skin soft. It also features a comfortable, smooth texture.

Jojoba oil

Rich in vitamins and helps improve skin balance. It readily absorbs into the skin due to its similarity to the components found in human skin.

*Ingredients

Shorea Robusta Seed Oil, (Jojoba Oil/Macadamia Seed Oil) Esters, Opuntia Ficus-indhica, Rice Bran Oil,
Sesame Seed Oil, Phytosteryl Macadamiate, Phytosterose, Tocopherol, Cyclopentasiloxane, Dimethicone, Isononyl
Isononanoate, Parfum (fragrance)
User Voice
# ikaw skincare oil
ikaw skincare step
ikaw's ultimate skincare guide
ikaw moistskin cleansing oil

Take 3 pumps into your palm and gently massage in a circular motion from the inside to the outside of your face, then rinse off thoroughly.

ikaw skincare oil

Apply 2-3 pumps onto your skin after cleansing

ikaw yourskin lotion

Pump an amount slightly larger than a 500 yen coin onto your hand, and work it into your skin

ikaw softskin cream

Apply an amount equivalent to 1 to 3 soybeans, depending on your preference, and blend it into your entire face
!