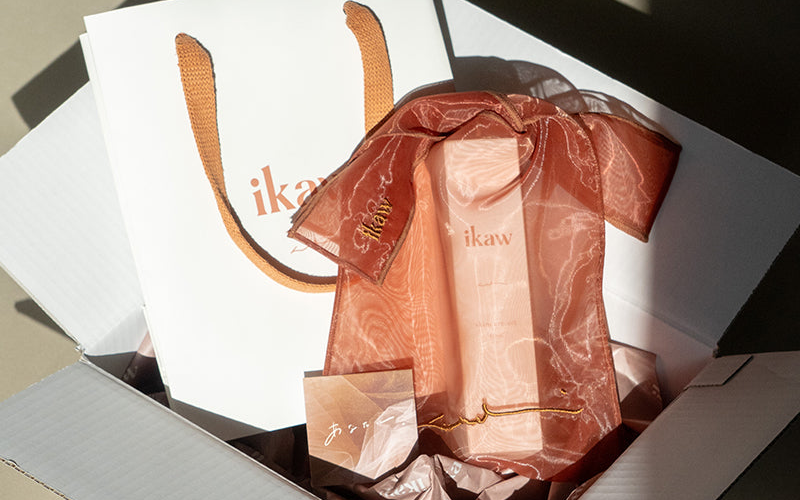 Gift Option
From ikaw to you.

From you to your loved ones.
The ikaw gift wrapping set

has been renewed and is now available.
It's perfect for customers who are purchasing gifts for
their loved ones.
We offer ikaw's original gift drawstring bag, a complimentary ikaw shopping bag, and a choice of four message cards.
You can write a personal message on the back of the card to express your feelings.

To make a purchase, please select the gift option from the order cart page.
Wrap your ikaw items and send the gift from you to your loved ones with our gift wrapping service.
Feel free to use it as you like.
ikaw gift wrapping set

This is a self-wrapping set that includes an original drawstring bag in a soft, slightly translucent terracotta orange color, an ikaw shopper.

The drawstring bag is available in sizes S and M - you can choose according to the items you want to send

*We do not provide wrapping service.
*Cards are not included in the wrapping set. Please add a message card from the cart page.

Size

Width 17cm x height 21cm
Size S is designed to fit 1 to 2 ikaw products



*The following products do not fit in this size, please choose size M for ikaw skincare oil big bottle, ikaw moistskin cleansing oil.

Width 19.5cm x height 25cm
Size M is designed to accommodate 2 to 3 ikaw products.
It fits slightly larger items such as ikaw big bottles and ikaw moistskin cleansing oil.



Material

75% Tencel, 25% polyester

Original gift message card

Add a few words to express your feelings to your loved ones with a message card. We offer 4 options for you to choose from: "Thank you", or "あなたに(For you)", or "love you", "本当におめでとう(Congratulations)".

*We do not offer a service where we print a personalized message on the message card. The card will be included in your ordered package. Please feel free to write your message on the back.

*You can choose 1 message card per item.