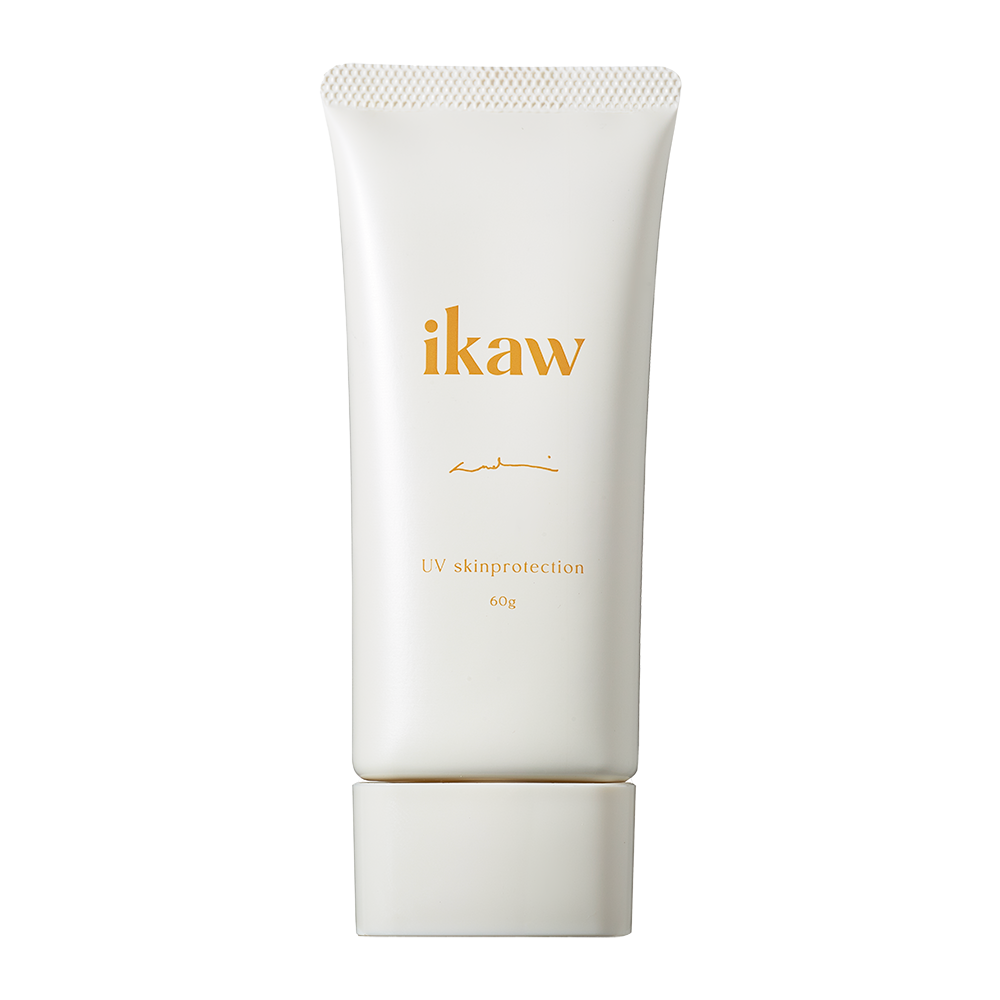 ikaw UV skinprotection
A long-awaited UV item is newly released from ikaw. Made with a lavish blend that comes close to a serum, it seeks to capture the distinct comforting texture unique to ikaw. The dewy and smooth finish gives the sensation of applying skincare. A completely new UV item has emerged from ikaw—with the concept of "living together with you," it will make you want to use it every day throughout all seasons while protecting your skin.
SPF 30 PA +++
・Can be used as a makeup primer
・Can be rinsed off with facial cleanser
・Colorless
$33.68USD 60g
Buy now
Gift option
Living together with you
Not only for summer, but for your everyday journey.
Made with a brand new concept—ikaw UV Skin Protection.
A sensation that readily melds with your skin, offering a comforting embrace.
Soft, smooth, and hydrating.
A sunscreen designed with the hope
that you'll use it not only during the summer but throughout all seasons
—just like your daily skincare routine. Treating you gently while being your guardian.
A comfort unique to ikaw.
Point

── Protects the skin from UV rays, resulting in a brighter complexion while maintaining moisture

The item, enriched with a luxurious blend of beauty extracts, accomplishes the dual purpose of moisturizing the skin and shielding it from damage. It effectively guards against both UVB waves, which can lead to dark spots and irritation, and UVA waves, responsible for wrinkles and sagging. The formulation features α-Arbutin, which directly inhibits melanin production for a brighter complexion. Additionally, it contains two types of oil-soluble vitamin C to prevent sebum oxidation and suppress the formation of reactive oxygen species known to cause skin inflammation and dryness. The deep-penetrating power of hydrolyzed collagen ensures excellent moisturization within the stratum corneum. Finally, a blend of three types of human-type ceramides not only enhances the skin's barrier function but also promotes cell turnover, delivering a skincare sensation with every application that goes beyond basic sun protection.

── Achieving a comfort unique to ikaw

To combat skin aging, sunscreen is an indispensable daily product, irrespective of the season. Nevertheless, challenges like the appearance of a white cast, a dry and discomforting sensation upon application, and potential skin irritation due to ingredients that might feel too harsh for daily use can cause distress to your skin. Many individuals may express, "I wish to shield my skin, but I'm hesitant about applying sunscreen." ikaw's UV Skin Protection is meticulously crafted with a dual focus on user-friendly application and skin compatibility. We've taken into account the seamless integration of this product into your makeup routine and its ability to provide comfort throughout the day. It effortlessly blends into your skin, leaving it thoroughly hydrated. Incorporating sunscreen into your daily regimen, beyond just the summer time, can contribute significantly to preserving the clarity and luminosity of your skin.

── The Power of Plants and Minerals

Soft and hydrating, this product blends seamlessly into the skin, providing an exceptional texture that feels like you're applying skincare. We've meticulously selected plant extracts that not only promote skin brightening and moisturization but also combat UV damage. These ingredients include Houttuynia Cordata Root Extract with melanin inhibition and astringent properties, European Goldenrod Flower Extract, Ginkgo Biloba Leaf Extract known for its antioxidant properties, and Prickly Pear Seed Oil, which shields the skin from external irritants while enhancing its barrier function. Additionally, the product harnesses the power of Tanaclay, a mineral that refines the skin's texture and enhances its transparency. ikaw UV Skin Protection is designed to complement your skincare routine while addressing your unique needs.

How to use
Living together with you

Apply after your morning skincare routine and before applying makeup.
It can also be used as a makeup primer.
Apply a suitable amount little by little, ensuring even coverage over your skin.

Avoid skimping, as it may reduce the effectiveness of UV protection.

To maintain UV protection, we recommend reapplying throughout the day.

You can use it not only on your face but also on your neck and body.

If you're using UV Skin Protection alone, you can remove it with a facial cleanser.
*However, if you're wearing makeup, use a makeup remover to thoroughly remove any makeup residue.



*About SPF: This number indicates the effectiveness in preventing UVB damage and does not denote the sunscreen's strength. It represents how much longer the skin can delay turning red. SPF 30 is considered sufficient for daily use as it can extend this protection for approximately 10 hours.

*About PA: This number indicates the effectiveness in preventing UVA damage. It serves as an indicator of immediate skin darkening that occurs 2 to 24 hours after UV-ray exposure. ikaw UV is rated as +++, signifying a high level of effectiveness.

Ingredient


α-Arbutin

Directly targets the increase in reactive oxygen species (ROS) caused by UV rays and stress, effectively inhibiting melanin production and resulting in proper skin brightening.

Tetrahexyldecyl Ascorbate

A type of oil-soluble vitamin C derivative—Inhibits collagen-degrading enzymes, prevents sebum oxidation, and suppresses melanin production.

Ascorbyl Dipalmitate

A type of oil-soluble vitamin C derivative—Suppresses the generation of free radicals, such as those from age spots, freckles, and sun exposure, while also preventing dryness caused by hyaluronic acid breakdown.

Human-type Ceramides 2 (NG), 3 (NP), 6 (AP)

These ceramides are highly moisturizing due to their similar structure to those naturally found in the human body. Specifically, human-type ceramides enhance the skin's barrier function, diminish wrinkles, and promote skin cell turnover.

Hydrolyzed collagen

Known to retain hydration and prevent skin irritation. It also helps moisturize the deep layers of the skin.

Ingredients:

Aqua (Water), BG (Butylene Glycol), Ethylhexyl Methoxycinnamate, Ethanol, Isopropyl Palmitate, Ethylhexyl Triazone, Dimethicone, Ascorbyl Dipalmitate, Ascorbyl Tetraisopalmitate, Opuntia Ficus-Indica Seed Oil, Ceramide NP, Ceramide NG, Ceramide AP, Sunflower Seed Oil, Jojoba Seed Oil, Salicornia Herbacea Seed Oil, Squalane, Rice Bran Oil, Sesame Seed Oil, (Esters of Jojoba Oil / Macadamia Seed Oil), Macadamia Nut Fatty Acid Phytosteryl, Phytosterols, Tocopherol, Hydrolyzed Collagen, Stearyl Glycyrrhetinate, Alpha-Arbutin, Ginkgo Leaf Extract, Scutellaria Baicalensis Root Extract, Aloe Vera Leaf Extract, Chamomile Flower Extract, Roman Chamomile Flower Extract, Houttuynia Cordata Flower/Leaf/Stem Extract, Japanese Paeonia Flower Extract, Japanese Beautyberry Flower Extract, Japanese Clover Flower Extract, Tanakura Clay, Silver Oxide, Bacillus Alcohol, Diphenylsiloxy Phenyl Trimethicone, t-Butyl Methoxydibenzoylmethane, Bis-Ethylhexyloxyphenol Methoxyphenyl Triazine, PEG-60 Hydrogenated Castor Oil, Carbomer, (Acrylic Acid/Alkyl Acrylate (C10-30)) Crosspolymer, Silica (Ca/Na), Potassium Hydroxide, Xanthan Gum, Hydrogenated Lecithin, Pentetate 5Na, Ethylhexylglycerin, Phenoxyethanol, Fragrance
!